The commercialization process of The Park Krakow complex, developed by White Star Real Estate and Cain International, is currently underway. The first tenant of building B2 is the company Infogain. For the leading provider of technological solutions based in Silicon Valley, this will be their second traditional office space in Poland.
The Park Krakow complex is rapidly expanding and is ultimately planned to consist of 8 buildings. Infogain has become the first tenant of building B2. The company specializes in engineering business digital platforms with deep domain knowledge in advanced technologies, transportation and travel, retail, and insurance. The tenant will occupy a space of 650 square meters on the 5th floor, featuring a terrace with a view of Bagry Lagoon.

"At Infogain, we operate according to our core values of shared development, creating value for clients, innovation, and delivering the highest quality IT solutions. We believe that technology shapes the future, which is why we focus on the development of our employees' competencies. Above all, we make every effort to employ exceptional individuals. We take pride in the atmosphere that prevails in our company. We are thrilled that soon we will create an environment where work will be even more comfortable for our employees. The choice of The Park Krakow as the location for our first traditional office in Poland is deliberate – we value a space where employees feel good and can take advantage of numerous amenities – says Krystian Sperka, Vice President & Managing Director at Infogain.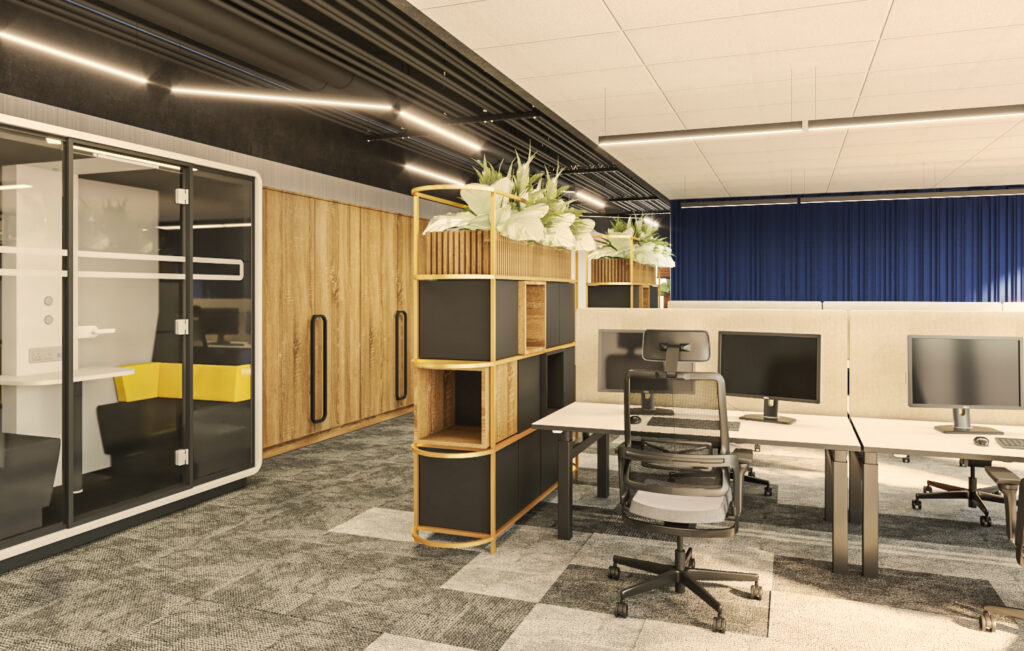 The first building in The Park Krakow complex (B1) obtained its occupancy permit in May 2022, and in January 2023, it welcomed its first tenant – OTCF company. In the fourth quarter of this year, a fitness club "My Fitness Place" will open in B1, and a small grocery store will commence operations in a few weeks. Currently, the first building is leased at over 80%. Advanced negotiations are ongoing for the remaining space in building B1 and B2.
As previously announced, the completion and occupancy of building B2 are planned for the third quarter of 2023. We are proud that the first agreement has been signed with Infogain. Moreover, we are pleased that a company focused on technology has chosen The Park Krakow for its first traditional office in Poland. Delivering innovative solutions is also important to us. An example is the mobile application provided to tenants, allowing employees to access the building and office space via smartphone, invite guests through a virtual reception, book conference rooms and hot desks, and easily manage parking. Similar to our new tenant, we also emphasize high-quality customer service – our distinction in the market lies in the fact that we manage office facilities while simultaneously being their owner – emphasizes Bartosz Prytuła, Managing Partner w White Star Real Estate.
In addition to traditional office space, The Park Krakow will eventually offer over 3 hectares of interior space with abundant greenery, water features, natural materials, and infrastructure for cyclists. All of this supports productivity and contributes to the well-being of individuals working in such an adapted environment.
Infogain is a global company providing technological solutions and services, utilizing accumulated experience, cloud solutions, microservices, the Internet of Things, and artificial intelligence. Infogain's work involves building products used by hundreds of thousands or millions of users worldwide. Whether it's an airline ticket reservation system, the operating system of a popular smartphone, or a content delivery network for major social media platforms, Infogain is aware that their work impacts the lives and actions of many people, hence their strong commitment to delivering top-quality results. Infogain offers a wide range of services covering the entire IT lifecycle: from strategic consulting and digital design to advanced engineering and data analysis.